Products on Sale
Baseus MVP Elbow Cable Type C 1M

Baseus Smart 3 in 1 Wireless Charger
Audionic Max 4 Sooper (2.1 Channel Speaker) in Pakistan
Description
Shop Audionic Max 4 Sooper (2.1 Channel Speaker) online in Pakistan at exclusive discounted prices from Shoppersstop.pk. As we provide the best mobile phone and computer accessories with timely delivery nationwide and free gifts to our regular customers through lucky draw. Get the lowest Audionic Max 4 Sooper (2.1 Channel Speaker) Price in Pakistan.
Audionic Max 4 Sooper (2.1 Channel Speaker)
Max Series is one of the best series in 2.1 channel Speakers that Audionic has introduced in the market. Quality sound & bass for music lovers. 3.5mm jack gives you an option to connect with any device like your mobile phone, computer, laptop, or TV, which makes it a dual-purpose speaker. The Max Sooper is another new addition to the max series which has gathered a lot of steam after its launch.
2.1 channel Speakers
2.1 channel models comprise two satellite speakers to handle higher frequency; however, the one sub-woofer is for lower frequency and bass. The sound system also packs a lot of required features such as Bluetooth, USB, Micro SD input, etc.
Key Features
Users can spend quality time on music by connecting it with Bluetooth-enabled devices.
Wireless Remote Control comes with a full-featured wireless control.
Play MP3 files directly from the USB drive.
Audionic Max 4 Sooper (2.1 Channel Speaker) of Specifications
Brand: Audionic
Colors: Black
Speaker Size: Sub-woofer: 5 Inches Satellite: 3 inches x 2.
Speaker Power: 30W + 15W x 2
Built-in: Micro SD Card Slot, Bluetooth, USB Port
Frequency Response: 50Hz ~ 60 KHz
Shoppersstop.pk brings you the best quality Audionic Speakers at discounted prices with free delivery and special free gifts items all over Pakistan with Best Customer Service.
Do follow us on Instagram to get information on the latest discount offers
Brand
Audionic Speakers
Audionic is considered renowned brand for Audio equipment in Pakistan. It was established in 2003 and since then, if provides best audio products which includes Speakers, Bluetooth Speakers, microphones, headphones and much more to its customers.
ShoppersStop.pk is known to have lowest prices on all Audionic Speakers in Pakistan with lowest shipping yet providing 100% brand New Audionic Speakers in Pakistan.
Audionic Speakers
Audionic Brand provides High Quality products and we have selected this product products on our store because of Audionic's reliability and quality it provides.
Audionic Speakers provide most innovative technology in Pakistan and is one of the few hi-end technological equipment providers in Pakistan.
Audionic Speakers For Sale
We at shoppersstop.pk have all in stock Audionic models for sale with lowest prices online for our customers to get the best of best in terms of quality and price being offered.
Shop from a huge variety of Audionic Speakers, Audionic Bluetooth Speakers, Audionic Handfree and other mobile accessories with ease.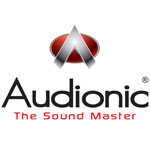 Additional information
| | |
| --- | --- |
| Brand | Audionic |
| Colors | Black |
| Speaker(s) Size / Drive Unit(s) | Sub-woofer: 5 Inches & Satellite Speakers: 3 inches x 2 |
| Speaker(s) Power output | 30W + 15W x 2 |
| Built In | Bluetooth, Micro SD Card Port, USB Port |
Only logged in customers who have purchased this product may leave a review.
Related products
Micro USB to Micro USB Charging Cable

Audionic Octane U30 Mini Mobile Speaker

Audionic Sugar 7 Speakers

Audionic Sugar 8 Speakers